REVIEW OVERVIEW
Design -

85%

Compatibility -

80%

Performance (Force-feedback) -

70%

Steering Wheel -

75%

Pedals -

70%
The Logitech G29 racing wheel was released in 2015 and has been a solid companion for most sim racing drivers for a very long time. When it was released, the Logitech G29 replaced the old Logitech G27 racing wheel, which was very popular at the time.
However, Logitech released the G923 in 2020, and I was curious to find out if the G29 was still a viable option, especially as a cheaper alternative to the Logitech G923 racing wheel.
So, in this Logitech G29 review, I'll be reviewing this Logitech racing wheel. I'll be discussing its specifications, design, compatibility, steering wheel, pedals, and some pros and cons, before weighing in on whether the Logitech G29 is still worth it.
Pros:
Highly customizable for individual preferences.
Responsive and bouncy pedal shifters.
Quality leather-topped wheel for a good grip.
Cons:
Force feedback can be excessive and disruptive.
Brake pedals are unbalanced and require adjustments.
Not compatible with Xbox consoles.
Related Post: Is the Thrustmaster TMX better than the Logitech G29?
What is the Logitech G29 Racing Wheel?
The Logitech G29 driving racing wheel is a type of sim racing wheel that allows players to add a level of realism to their racing games. It allows players to play racing simulation games like Forza Horizon, Asseto Corza, F1 Racing, and more on their consoles with a realistic steering wheel, pedal system, and optional gear shifter.
The Logitech G29 is the PlayStation version of the racing wheel, which allows players to use it on their PlayStation consoles and play games like Grand Turismo and Need for Speed with realistic resistance, weight in the turns, and even transmission changes. It is a total racing package which allows players to experience racing simulators in an extremely immersive way, which can't be compared to playing with a controller, even with motion controls activated.
The Design of the Logitech G29
The Logitech G29 driving force racing wheel follows a lot of the same design patterns and systems as many of the racing wheels of the time. The wheel has nice leather stitching to cover the aluminium wheel. It also has an LED indicator just above the centre of the wheel that indicates when you should upshift or downshift. It also has a blue centre stripe used to help indicate where the steering wheel is for your peripheral vision.
It has the same steering wheel and pedal set-up as the G923, and it follows all the same design conventions as many racing wheels. It has 14 buttons on the face of it, which are all designed to aid the driver. They consist of the D-Pad, the PlayStation start and control buttons, which are set up just like the PS4 controller. It also has a 24-point selection dial and a plus and minus button for fine-tuning your driving preferences. It almost looks like an F1 racer's steering wheel but with fewer buttons.
The wheel looks and feels good, and it isn't too heavy when you're gaming with it. It has a plastic casing and plastic clamps or glass-filled nylon to help with mounting on a table or simulation frame, and it also has some holes on the bottom to screw it down when you're mounting on a sim frame.
If you do not purchase the optional shifter, you can use the paddle shifters at the back of the steering wheel to switch gears. They are made of stainless steel and have a nice bounce to them that feels good. It has a lot of PlayStation branding on it, with the PlayStation logo on the middle of the steering wheel. It is also all over the packaging of the steering wheel and all over the box.
The pedal system is much like a manual gearbox. It has a three-pedal system for braking, accelerating, and changing gears via the clutch. It is also mounted on a plastic baseboard and has rubber pads for added grip. It is very simple and is painted all black, just like the steering wheel, which is painted black. I like the design of the Logitech G29 racing wheel and pedals. The design team at Logitech got the feel of a steering wheel and pedal system spot on.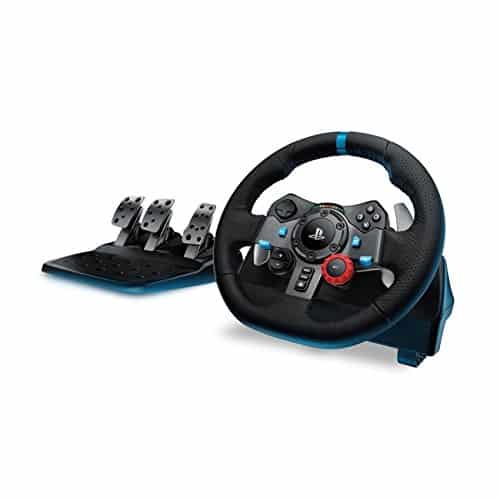 The Logitech G29 Compatibility
The Logitech G29 is compatible with the PlayStation 3, PlayStation 4, PlayStation 5, and PC. The connection process is very simple. Once you have connected the steering wheel to the brakes and powered it, all you have to do is connect the steering wheel to the console or PC of your choice via its USB-A cable.
However, when you want to use the G29 racing wheel on a PC, please remember to install the Logitech G-Hub software, which allows you to adjust some of the settings on your racing wheel, like adjusting the resistance on your brakes and other pedals, as well as assigning keys to buttons.
It does not require you to change any of its controls or settings to get it to work with either of the PlayStation consoles or PC. It is a simple plug-and-play system. However, the Logitech G29 is not compatible with the Xbox 1 or Xbox Series X/S. This is because of the differences in connection and system architecture for both consoles, but the Logitech G920 is compatible with Xbox consoles and PCs.
Specs
| | |
| --- | --- |
| Wheel: | rotation at a 900-degree lock-lock hall-effect steering sensor. Dual-Motor Force Feedback Overheat safeguard |
| 3 pedals: | braking and clutch, a brake pedal that is nonlinear, a patented carpet grip system, textured heel grip, and self-calibration. |
| Shifter/gear | 6 + push down reverse |
| Sensor type: | 8-bit Potentiometers (256 steps) |
| 24 buttons | D-Pad setup for both PlayStation |
| Wheel dimensions | 270 x 260 x 278 mm |
| Wheel weight | 2.25 kg (4.96 lbs) |
| Pedal dimensions | 167 x 428.5 x 311 mm |
| Pedal weight | 3.1 kg (6.83 lbs) |
| Compatibility | Playstation 3, Playstation 4, Playstation 5, and PC (Windows 7 and up) |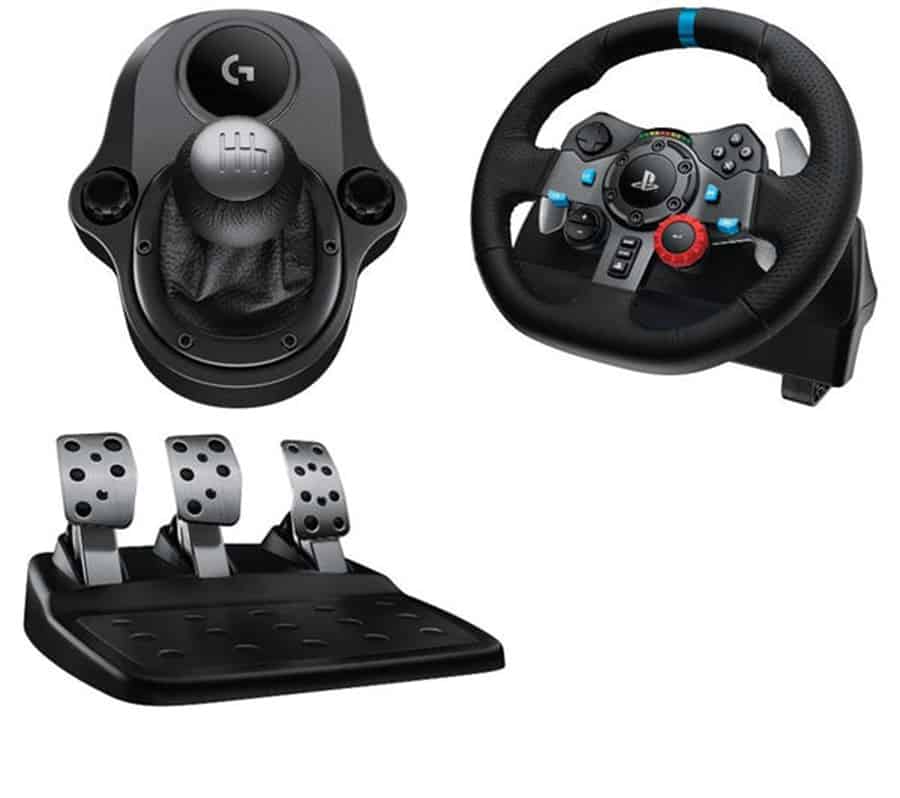 Does the Logitech G29 have Force-feedback?
The Logitech G29 has force feedback, but its application is a bit too much and can feel like a hindrance for some games. It can also feel like a plus that adds to the realism when playing some racing games. It feels very hit-and-miss sometimes, and I think you might have to change the settings in the G-Hub app so that you can get the most out of the steering wheel.
However, you may have to try different variations on the force-feedback settings till you get something that feels right. What worked for me was to reduce the force-feedback settings to below 90%, but it could be different for you based on how aggressively you drive, so take that into account when you are changing your force-feedback settings.
The Logitech G29 Steering Wheel
The Logitech G29 steering wheel features a 900-degree lock-to-lock rotation, which means you can turn the wheel up to two and a half times per wheel spin. It also has dual-motor force feedback of 2.1 newtons that is driven by gears and plastic cogs.
The force feedback it gives is about 2.1-newtons of torque. This is alright but not great, especially when you compare it to some of the stronger options out there from the likes of Thrustmaster and Fanatec. The wheel itself does work well, but the force feedback is quite aggressive in its stock form, which does slow down the game.
However, it does lack a bit of tightness when turning and can cause a bit of understeer when hitting some very deep turns, but you can affect some changes with it via the settings. In its current form, the drifting process is not easy to pull off, and you have to press the square button to drift, which feels like a bit of a hindrance to the whole drifting process. I would suggest getting a manual hydraulic shifter to aid your drifting process.
The steering wheel on the Logitech G29 has a bit of a lax feel to it. I wish it was a bit tighter on sharp corners, but all in all, it is a good steering wheel for a starter and not someone trying to play professionally.
The Logitech G29 Pedals
The pedals on the Logitech G29 steering wheel are alright. They aren't finicky at all, and they have a bit of weight and some solid feedback to them. However, the breaks lack a bit of oomph.
It has a nice and solid resistance when you are breaking at about 50% force, but it feels like the resistance on the break is a bit much when you are trying to break at full force, and that can cause a bit of an issue because when you are trying to use your full force to break in real life, you will flatten the breaks all the way through. But with the Logitech G29 brakes, the amount of resistance is too much.
However, there are two solutions you can use to make the brakes more manageable. The first solution is to remove the rubber resistance attached to the brakes. That should manually adjust the brakes and pedals, but it will also remove all the resistance on the brakes, which will stop you from having full control over your brakes and could make any little bit of force feel like you're applying all your force to the brakes.
The second and best solution involves you going into the Logitech G-Hub settings and reducing the amount of manual brake resistance in the game, which should make the brake softer in-game so that your force feels equal to what is happening in-game even though you can physically see it. For a starter racing wheel, the brakes are okay, and I think Logitech should have already reduced the force on the brake in general so that players wouldn't have to adjust it themselves.
Buyer's Guide
If you are thinking about purchasing the Logitech G29, then you are in luck because it is widely available on most storefronts. However, since the pandemic started, this Logitech racing wheel's price has increased.
I was able to find it on Amazon for about $280, and that was without the optional shifter. If you want to buy the shifter separately, then you would have to pay $50 for it, but if you want to get it as a bundle, then you will have to pay over $300 to get it. The funny thing about racing wheels right now is that the pricing structure for all of them has begun to level out at about $350, except for the G29.
If you were to go on eBay, then you should be able to find the Logitech G29 for a good price. I found the full bundle for about $180. I didn't buy it because I thought I would find something cheaper, but it was a fruitless endeavour. I found another one on eBay, but it costs about $220. I kind of wish I had bought the one for $180 when I found it.
As for accessories, the optional steering wheel costs about $50, but you can get it as part of a bundle for less. There are also bundles for a sim racing kit. I found a few of them on Amazon for between $100-$300. "The Omega steering wheel stand" costs about $106, but that one doesn't come with a chair. I also found the "Next-level racing F-GT lite foldable simulator cockpit" for $299, which feels very expensive, but for a professional sim racer, that is usually a starting point.
3 Logitech G29 Alternatives to Consider
The Thrustmaster T248
The Thrustmaster T248 is a futuristic wheel that costs the same as the Logitech G29. With the wheel's 23 buttons, you can make changes on the fly. This wheel is designed for more advanced sim racers, but if you are serious about getting started in sim racing, this could be the wheel for you. I found this model on Amazon for about $368
The Logitech G923
The sim-racing community is extremely brand loyal. If you like all of the features of the G29 but want something a little newer, the Logitech G923 might be for you. This wheel provides TRUEFORCE force feedback that is directly connected to the game you are playing to provide a realistic experience. I found it on Amazon for $350
The Thrustmaster T300 RS
Do you prefer a more realistic, authentic-looking setup? This wheel could meet that requirement. The Thrustmaster T300RS has an "ecosystem ready" base, which means it has a detachable wheel that allows you to buy other wheels while still using the same T300 base. I found it on Amazon for $400.
Is the Logitech G29 Worth it?
The Logitech G29 is a good entry-level steering wheel and pedal set, but it has a few limitations that make it a bit difficult to give you the best performance, especially for competitive racing. However, as a casual and practice racing set, it is very good.
The steering is very good, but the gear and pedals aren't very good, so you could start with this set and then move on to a higher-end model as you progress as a competitive racer, but if you're a casual gamer who loves racing games, then at its price range it wouldn't be the best fit for you.
I think there are a lot of other options out there that could provide you with more to work with. The Thrustmaster T248 costs about $368 on Amazon and uses a belt-fed system to provide more power to the wheel while also reducing understeer. The Logitech G29 may be a solid option to go for, but it is not the best, and it costs more than usual. If you can get it on eBay for less than $220, then you should go for it.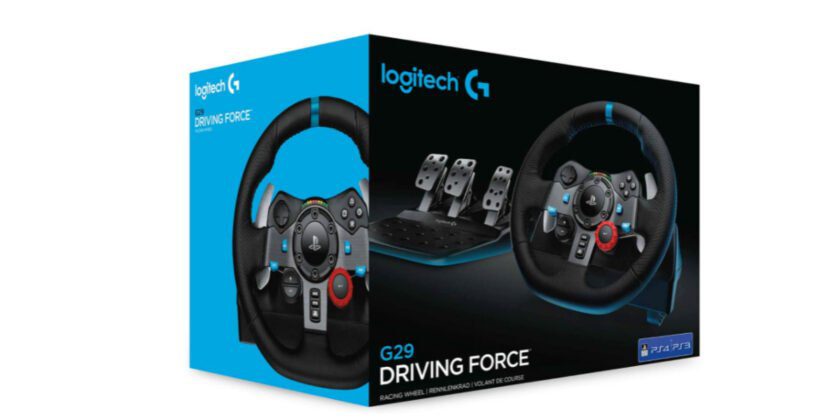 Conclusion.
Overall, the Logitech G29 is a solid racing wheel that should get you a few wins when you start competing, but once you start to move up the ladder and begin to get into more professional races, then you will be left behind by better races with better tech.
However, for a casual sim racer, the Logitech G29 is a solid option to get, but it is still a bit pricey, and that may turn you off from getting it. Although, there are some good deals to be made on places like Amazon and Walmart, where you can get the G29 a bit cheaper. I don't think the G29 is terrible.
I just think that it may need a few more tweaks to improve its performance as a driving force racing wheel.
I hope you found this review of the Logitech g29 driving force racing wheel helpful. Please leave your comments below in the comment section, and let's talk about the Logitech G29.
Now over to you; are you buying it? Do you have one already? Are you thinking about getting one, or what is your experience using the Logitech g29?
I would love to read your comments. Thanks.
Best Prices Online:
FAQs – The Logitech G29 Racing Wheel Review
Q: Are Logitech G29 racing wheels good?
A: The Logitech G29 is a fantastic sim racing wheel for beginners because it strikes an excellent balance between build quality, price, and performance. It is highly compatible, has reasonable force feedback, and has a realistic feel, but it is not the best option for more seasoned sim racers.
Q: Is the Logitech G29 or G923 a better choice?
A: When compared to the G29, the upgraded G923 doesn't offer much of a difference in performance. And the new Trueforce force feedback does not transform Logitech's racing wheel offering. If you already have a fully functional G29, don't bother upgrading to the G923.
Q: Is the Logitech G29 discontinued?
A: It replaced the Logitech G27 in 2015 but retained the internal design and technical specifications. Its successor is the Logitech G923, released in August 2020. However, the G29 is still available for sale.
Q: How Long is the Warranty for the Logitech G29?
A: The G29 is covered by a 2-year limited hardware warranty provided by Logitech.
Q: What sim racing games are compatible with the Logitech G29?
A: The Logitech G29 is compatible with all popular sim racing games, including but not limited to games such as the Assetto Corsa, iRacing, Project CARS, rFactor 2, and Dirt Rally.
Q: What are the three metal pedals that come with the Logitech G29?
A: The three metal pedals that come with the Logitech G29 are: an acceleration pedal, a brake pedal, and a clutch pedal.
Q: What are the stainless steel paddle shifters for?
A: The stainless steel paddle shifters are used to shift gears while racing.
Q: How much force does the Logitech G29 have?
A: The Logitech G29 has a force of 2.0 Nm.
Q: Can I buy the Logitech G29 without the pedals?
A: No, the Logitech G29 cannot be bought without the pedals.
Q: Can I buy the Logitech G29 without the shifters?
A: No, the Logitech G29 cannot be bought without the shifters.
Q: I don't have a lot of money. Is the Logitech G29 a good choice?
A: The Logitech G29 is a great choice for beginners because it is very affordable and has great features for the price. It is also compatible with all popular sim racing games.
Q: I'm a more experienced sim racer. Is the Logitech G29 a good choice?
A: The Logitech G29 is a great choice for beginners and more experienced sim racers alike. It has great features and is compatible with all popular sim racing games.
Q: I want to buy the Logitech G29. Where can I buy it?
A: The Logitech G29 can be bought from any major retailer or marketplace that sells sim racing equipment, such as Amazon, Walmart, eBay and much more.
Q: I want to buy the Logitech G29. What do you recommend?
A: I recommend this wheel because it is a great choice for beginners and more experienced sim racers alike. Most importantly, it's quite affordable and has great features for the price.
Q: What is the difference between the Logitech G29 and the G920?
A: One of the major differences between the two models is that the G29 is the older model and does not have the same level of force feedback as the G920. Also, the G29 is only compatible with Playstation and PC, while the G920 is compatible with Xbox, Playstation, and PC. Although, there are other differences between the two than just the force feedback.
Q: I want to buy the Logitech G29. What do customer reviews say?
A: Customer reviews for the Logitech G29 are generally positive, with many people praising its value for the price, its build quality, and its compatibility with all popular sim racing games. There are a few complaints here and there about the force feedback not being strong enough, but overall the reviews are positive.
References: Logitech Racing Wheel.