REVIEW OVERVIEW
Design -

81%

Performance -

89%

Features -

81%

Value for Money -

82%
The PlayStation 4 Pro was the next step in the PlayStation console life cycle and was the most powerful console, but as we all know, the PS5 currently sits at the top of the pile as Sony's most powerful gaming console until they release the PS5 Pro.
However, the PS4 Pro is still a sound gaming console, and with all the chip shortages and price hikes that have marked the launch of the PS5, the PS4 Pro is still looking like a good choice for most gamers looking to take their gaming experience to the next 4K level.
In this review of the Sony PlayStation 4 Pro, I'll go over the specifications, capabilities, performance, and games that are also great to play on the PS4 Pro.
Related Post: Sony PlayStation 5 Review.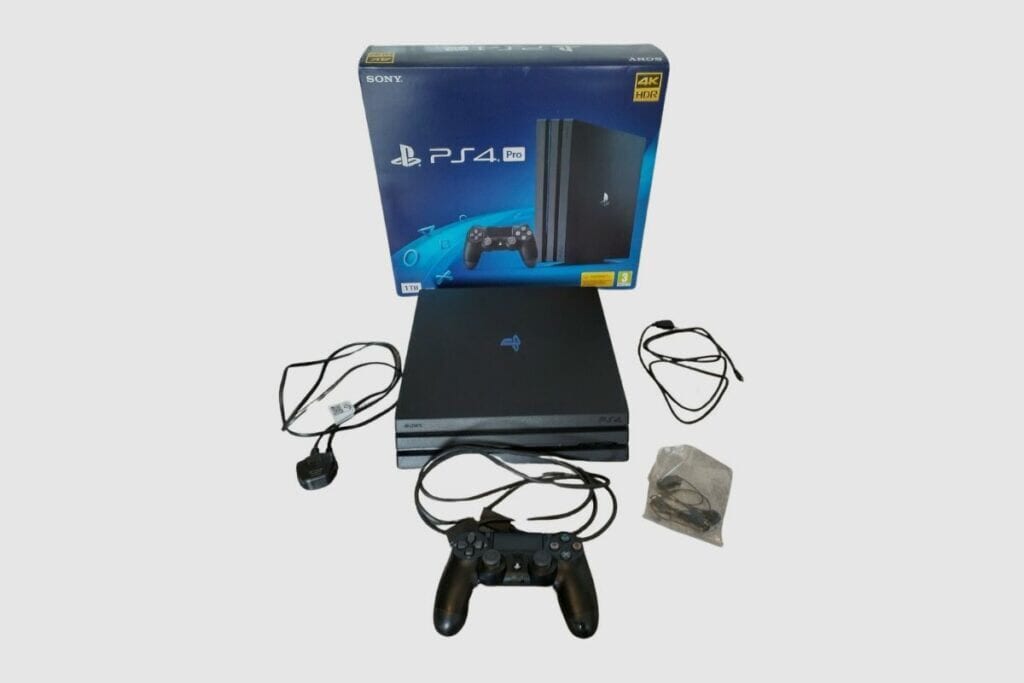 Specifications
| | |
| --- | --- |
| Size | 29.5 x 32.7 x 5.5cm (W x L x H). |
| Weight | 3.3kg |
| CPU | X86-64 AMD "Jaguar", 8 cores |
| GPU | 4.20 TFLOPS, AMD Radeon based graphics engine |
| RAM | 8GB DDR5 |
| Storage | 1TB |
| Max Rez | 4K |
| Networking | Ethernet(10BASE-T, 100BASE-TX, 1000BASE-T)×1, IEEE 802.11 a/b/g/n/ac, Bluetooth®v4.0 |
| Power | AC 100-240V, 50/60Hz |
| Power Consumption | Max. 165W |
| Output | HDMI™ out port (HDR output supported) |
Features
Some of the main features of the PS4 Pro are;
Resolution
On an HD TV, game resolution ranges from 1080p to 1440p.
The resolution of games can be increased to nearly 4K using improved upscaling methods.
Certain games can output a native 2160p resolution on the PS4 Pro.
Graphics
Improved focus makes distant background objects more visible and detailed.
Images with rounded corners and other soft features look smoother and more realistic.
Small visual details like smoke and steam have a heavier appearance and a more authentic feel.
HDR; HDR evens out the lighting in games, enhances colours, and gets screens closer to the full spectrum that the human eye can see.
Environmental Features
More realistic designs for in-game textures and images, such as rust on metal and dirt on clothing, are possible.
Sharper shadows with finer details at farther distances are possible with PS4 Pro, adding depth and context to the image.
With more images on the screen at once, more intricate imagery can be displayed.
Frame Rate Improvements
PS4 Pro flying rates more fluid locked frame rates.
Faster targeted frame rates are generated by PS4 Pro.
Design
From a design standpoint, there isn't much of a difference between the PS4 Pro and the standard PS4, but there are some minor changes they have made to the look of the PS4 Pro to make it stand out a little bit.
When compared to the standard PS4, the Pro takes up a bit more room than usual, with its exact dimensions being; 29.5 x 32.7 x 5.5cm (W x L x H). While the standard version measures 27.5 x 30 x 5.3cm (W x L x H). Additionally, the Pro version now has rounded corners instead of the standard version's sharp edges.
The Sony PlayStation 4 Pro appears to be a little bit larger than the standard PS4 at first glance, and there has been a conscious decision to switch from a sensor for the on/off and eject buttons.
There's also this kind of three-layer look to the front of the PS4 Pro that makes it look like a flight of stairs or a horizontal bookcase. PlayStation has also done away with that glossy plastic panel in favour of an all-matte black paint job, and as Marques always says, everything is always better in matte black.
Another minor change they have made is by moving the silver PlayStation sign at the bottom of the standard version to the middle of the Pro version, and it is also in Matte black. I have to agree with Marques that everything is always better in matte black.
The Pro model has also added an extra USB 3.1 port at the back as well as a new power port, which is usually seen on PCs. It also has a new HDMI 2.0 port.
So, on the whole, the PS4 Pro may not be a big departure from the standard version, but PlayStation has made some significant changes to the Pro to make it stand out, but it should still look like a PS4 by keeping the same design language.
Graphics
The Biggest thing about the PS4 Pro is its ability to render games at 4K HDR displays, and that is its biggest selling point. Its ability to deliver more power and higher graphical fidelity than the base model PS4 is supposed to be a major boost for it. However, a lot of that boost in graphical fidelity that comes with the PS4 Pro can only be accessed and utilised by using a 4K HDR display. So, if you have a simple 1080p display, you would only get minor boosts in performance, and you won't be able to take full advantage of all of the advertised performance and graphical boosts.
However, if you do have a 4k TV, then you should be able to get all the impressive 4K images that provide you with an extremely crisp and detailed image on the screen. In-game textures look very sharp and realistic.
My favourite game to play on the PlayStation 4 Pro is Spiderman PS4; watching Spiderman fly through the streets of New York in all its 4K glory is truly a marvel to behold (pun intended). When HDR is engaged, colours appear deeper, and the screen appears brighter.
However, not every game on the PS4 pro is 4K native, and sometimes it depends on how the developers want to implement their 4K displays. Titles such as Watch Dogs 2 could use a bit more love from the PS4 Pro's upscaling.
I mean, don't get me wrong, the game does look good, especially when standing still; the textures look great. I could even spot the knitted detail on my in-game sweater, but when rotating the camera or running around, I could notice some dips in the frame rates and some lag in the upscaling.
How Does a PlayStation 4 Pro Render Games at 4K?
Older games like Skyrim will natively render at 4K, which means that the game is rendered in the same resolution as the display is and can get it at higher pixel densities than a 1080p game. This makes for a much sharper and smoother texture than on normal games.
However, many newer games make use of techniques like dynamic scaling, checker-board rendering, and supersampling.
Dynamic Scaling
This process occurs when frames are rendered at resolutions between Full HD and 4K on the same scene within the same game and then upscale to a 4K resolution.
Checker-board Rendering
This renders only half of the pixels on a 4K display. It renders pictures on a diagonal pattern instead of leaving the entire vertical line rendered. This makes it easier for the system to guess where the missing pixels are, resulting in sharper images and better anti-aliasing.
Supersampling
Super-sampling renders at a higher resolution and then scales down to 1080p. This is the process that occurs when playing with the PS4 Pro but with a 1080p display, but at launch, games suffered some performance dips when scaling down to 1080p.
This method also occurs when playing some games that allow you to switch between 4K high fidelity mode and 1080p performance mode. A process we saw become more prominent on PS5.
HDR
HDR offers players with even brighter and more accurate black levels for better detailing. However, this all depends on whether or not you have a compatible tv and the game you are playing or movie you are streaming supports HDR display.
Performance
On the performance side of things, most games which aren't specifically patched to utilise the improvements provided by the pro won't magically load faster or have better frame rates, and that is a really unfortunate choice on Sony's part. You also need to know that the PlayStation 4 Pro isn't a catch-all for performance improvements with all of your games.
It is up to the developers to know what to implement and how to utilise the PS4 Pro's bump in performance over the standard model. Games like Rise of the Tomb Raider give you a choice to instantly switch between 4k better graphics at 30FPS or 60FPS performance at 1080p. Sometimes, it is hard to tell which games are actually supporting 4k and what kinds of performance you are getting at 4K resolutions
1080p TV Performance
The biggest draw for most Pro users would be the ability to game at 4K with HDR enabled. However, not every player may have a shiny 4K HDR Tv. So, Sony has made some improvements for players by using a technique called supersampling to provide players with a scaled-down version of a 4K resolution on a 1080p display.
This produces a slight improvement in frame rates in some games like the Rise of Tomb Raider. This provides players with smoother actions and movements as well as improvements in textures and images.
However, I wasn't completely amazed by the performance of Pro gaming on a 1080p display. While the boost in frame rates was a big plus, I felt that it still wasn't enough to warrant spending more to get a Pro version. However, the PS4 Pro wasn't made for 1080p displays now, was it?
4K Performance
This is where the PlayStation 4 Pro shines; once paired with a 4k tv, older games get a major boost in performance because of upscaling and native 4k boosts. Games like Infamous Second son get a major boost in graphical fidelity, particle effects fly off the screen and contrast ratios spike through the roof.
However, it is a good point to note that not all games to out at native 4K resolutions but many of them support 4K Pro mode, which upscales performance and boosts graphical fidelity, and it all shines on a 4k tv, but it still doesn't match some of best performance on a high-end PC, but it is close, and that is very impressive.
What are Some of the Pros and Cons of the PS4 Pro
Pros
4k HDR Console
1TB hard drive
Pro mode games to look great
Cons
No 4k Blu-ray Drivers
Pro mode performance varies.
What Games can I Play on the PS4 Pro?
With the PS4 Pro, you can play any PlayStation title that is available on the PS4. I just want to make one thing clear, and that is that there are no PS4 Pro exclusive games and that all games can be played on both the PS4 and the PS4 Pro.
Titles like God of War 2018, Spiderman PS4, Ghost of Tsushima, and Horizon Forbidden West can all be played on both the PS4 and the PS4 pro. I do believe that you would get the best performance and graphical fidelity from the PS4 Pro.
Buying Guide
The PS4 Pro is no longer the most powerful or newest PlayStation Console on the market, so it can be gotten for a fairly lower price. At launch, the PS4 Pro cost about $400, but now it costs between $350-$380 due to the recent hikes in prices and chip shortages. The prices have gone up. I found it on Amazon for about $380, and I also found it on eBay for about $350.
Accessories-wise, I think there are two major accessories you would need to buy to get the most out of it. The first one would be an extra controller, as most PS4's only come with a single controller, and getting another one would be vital.
I found one on Amazon for $50, which seems fair to me, and finally, the last option is not necessarily an accessory but is very vital.
The most important thing to get when you are getting a PlayStation 4 pro would be a 4K tv. I found the Sony 43" 4K Ultra HD TV on Amazon for $650, and I think that would be a good option to get. There aren't a lot of problems with the PS4 Pro.
I think one major problem it would have is the fan; it gets pretty loud when you are playing some games with Pro mode activated, but aside from that, you shouldn't have any real problems with the PS4 pro.
Is the PS4 Pro Worth it?
The Sony PlayStation 4 Pro is an incredible console; Sony put a lot of work and effort into producing this console. However, the PS4 Pro falls under some very specific conditions, and these conditions determine whether or not you would need or should get it. This is because the PS4 Pro is a console that is situation-dependent.
If you already have a PS4 and you are thinking about upgrading your console, then you might as well get a PS5.
However, a PS5 is still a bit expensive, but I would suggest sticking with your PS4 for now because there are still games being made for your PS4, and while I think you may find it necessary to want to upgrade for the better graphics, you might as well save up a bit of money and get the PS5.
I personally think even if you don't have a PS4 and you are thinking about getting a PlayStation 4 Pro, you might as well save up and get a PS5.
Conclusion
Overall, the Sony PlayStation 4 Pro is best utilised with a 4k/HDR TV, the benefits gained from the combo speak for themselves. It offers superior frame rates and an incredible boost in performance and graphical fidelity that are noticeable and appreciable. However, for a non-4K TV owner, getting the benefits from a PS4 Pro is a bit more debatable.
The system dramatically improves upon the previous design and adds a layer of class and power to an otherwise solid entry into the PlayStation console cycle.
However, I would be lying if I said I wasn't disappointed to see that it didn't have a Blu-ray driver. While it does have its bright spots, I still feel this isn't a must-have for most players; the honest truth about the Pro is that the boost in performance will still be down to the TV you have.
FAQs – Sony PlayStation 4 Pro Review
Q: Can I Play with a PS4 Pro Without a 4K Tv?
A: It is possible to play with your PlayStation 4 Pro console with a regular 1080p display, but you wouldn't get all of the performance and graphical boosts that would come with the Pro and 4K TV combo.
Q: Can I Use My Old PS4 Controller with My PS4 Pro?
A: It is very possible to play any PS4 console with any PS4 controller; this is because the PS4 controllers are all Bluetooth devices, and they all connect to the PS4 and PS4 Pro with no hassle whatsoever. All you have to do is connect it via your USB cable, press the PS button, and you should be connected. After that, you can connect to it without using the USB cable.
Q: Is the PS4 Pro worth Getting Now?
A: Even with the PS5 out, the PS4 Pro is still a solid console and should still be considered an option. With PS5 still having shortage issues and price hikes, the PS4 Pro provides you with a good option to play games in 4K.
Product Image Gallery – Sony PlayStation 4 Pro Review
References: Sony, Gaming Console.