REVIEW OVERVIEW
Design -

88%

Performance -

88%

Features -

82%

Value for Money -

87%
Xbox Series S Game Console is a solid next-gen gaming console with a lower internal storage space compared to the Xbox Series X. It is designed to run games at a lower level of resolution @1440p, but it can also run native 4K, such as Will of the Wisps.
Being the most affordable Microsoft Xbox console, it has to cut back on some things, such as 4K HD Blu-ray which means you cannot play the games you have gathered over the years on this device as it is a digital device.
Pros
It is sold at a reasonable price.
It has a compact design.
Controls are responsive.
Fast load time.
It offers a solid gaming experience.
Cons
Native 4K gaming is not supported.
Low storage space.
The disc drive is absent.
Expandable memory is expensive.
Design
The Xbox series S has an off-white plastic build which is smaller than the Xbox series X console or the PS5. It measures 28cm in width and 15cm in depth when placed horizontally. This makes it portable and easy to transport to a friend's house.
It looks great and fits comfortably however you decide to place it, whether vertically or horizontally. It has a distinctive fan vent on the top in black, which breaks the all-white colour of the console.
The port selection on this console generation doesn't come as a surprise. In front, you would find a USB port, a power button, and a 3.5mm headphone jack. Located at the back is an HDMI 2.1 port, 2x USB 3.2 port, an AC input, an Ethernet connector and a storage expansion slot.
Performance
The Xbox series S game console is a powerful console equipped with an Octa-core Zen 2 CPU, 10GB of GDDR6, 512GB of storage and packs 4 Teraflops GPU. Its GPU can raise a game to 4K and still run a frame rate of 120fps@1440pixel resolution, and thanks to Microsoft's Xbox Velocity Architecture, the Xbox series S loads games faster than before.
It comes with an expandable memory slot, but the official storage expansion card would cost you $220 extra if you are getting a new one but if you already own one that has compatible games for Xbox One S on it, you should be able to use it with the Xbox series S.
The controller that comes with the Xbox series S has subtle ergonomic changes, which make it easier to use, but it still uses AA batteries. It is more tactile than before, with shorter triggers and a 360° D-pad. The overall size was reduced a little bit, and it now has a matte finish on the triggers, handles, and bumpers.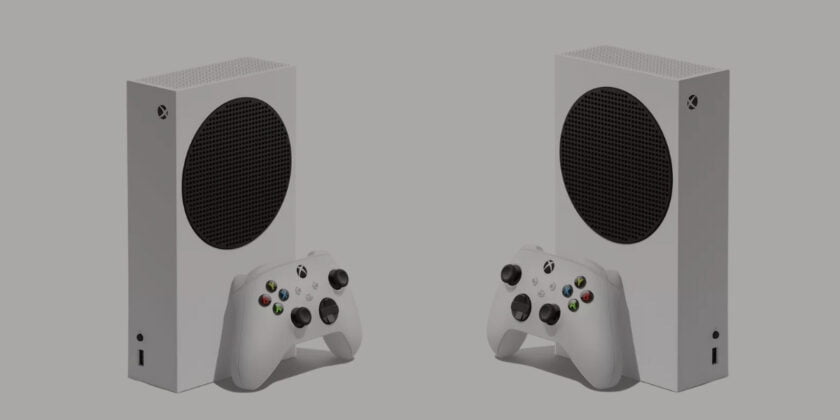 Features
It has a nice design.
Ships with an 8-core custom AMD 3.6GHz processor.
10GB GDDR6 and 512GB NVMe SSD.
Dolby Vision and Dolby Atmos support.
1440 pixel resolution at up to 120Hz refresh rate.
It comes equipped with a share button to capture and share your moments with friends.
Specifications
Brand: Microsoft,
CPU: 8-core custom AMD 3.6GHz 7nm,
GPU: 4 teraflops 1.565GHz,
RAM: 10GB GDDR6,
Storage: 512GB NVMe SSD,
Resolution: 1440 pixel @60Hz, 120Hz,
Dimension: 6.5cm x 27.5cm x 15.1cm,
Weight: 1.93kg,
Audio: Dolby Atmos, DTS, Dolby Digital,
Ports: 3x USB-A, HDMI, 3.5mm audio combo headphone jack,
HDR Format: Dolby Vision, HDR 10.
Buying Guide for the Xbox Series S Game Console.
The Xbox Series S is a good gaming console that offers a great gaming experience and could be seen as an affordable console that offers reasonable upgrades from its predecessors. Although it includes features like backward compatibility, Smart Delivery, and Quick Resume that give it an extra boost, it still has some faults in terms of storage space and a user interface that looks outdated.
When buying the Xbox Series S, you get a sleek-looking device that is easy to carry around. It also includes a wireless headset and two controllers. There is no disc drive included, though.
If you are not after playing 4K Blu-ray games or constant 4K gaming resolution, the Xbox series S console will not disappoint you so far you are satisfied with what it has to offer. You should, however, note that the Xbox Series S ships with a High-Speed HDMI cable only and not an Ultra High-Speed HDMI cable.
How much is the Xbox Series S Game Console?
The Xbox series S is sold at $300, which is about $100 less than the previous generation model.
Available series
Below is a list of all Xbox game consoles since the company started in 2001.
Xbox (2001)
Xbox 360 (2005)
Xbox One (2013)
Xbox One S (2016)
Xbox One X (2017)
Xbox series S and series X (2020)
Is the Xbox Series S worth buying?
Yes. The Xbox series S is a next-gen game console that offers impressive upgrades compared to its predecessors with faster load time. It is an excellent choice if you want to play next-gen games and you need to work within a budget.
Conclusion
Overall, I think the Xbox series S is a decent choice when looking for a cheap yet powerful gaming console. If you want something that gives you better performance without breaking the bank, then go ahead and purchase it. It is not perfect, but it delivers an excellent gaming experience at a good price.
Best Prices Online:
FAQ – Xbox Series S Game Console Review
Q: What does "4K UHD" mean?
A: This refers to a high-definition video format that supports resolutions between 3840×2160 pixels and 7680×4320 pixels.
Q: Does this include native 4k gaming?
A: No, native 4k gaming is not included.
Q: How do I know whether my TV can display 4K content?
A: Check your television manual. Some TVs have built-in apps that allow users to check their compatibility with various formats.
Q: Is there any difference between the original Xbox One and the Xbox One S?
A: There are no major differences; they both share similar features, including backwards compatibility.
Q: Will the Xbox one S support HDR10?
A: Yes, Microsoft announced that the Xbox One S would support Dolby Vision and HDR 10.
Q: Do I need to buy anything else besides the Xbox One S to get HDR10/Dolby vision?
A: Not necessarily. Many televisions already come equipped with these technologies.
Product Images – Xbox Series S Game Console Review