REVIEW OVERVIEW
Game Story And Characters -

80%

Graphics And Sounds -

85%

Playability -

79%
This NetherRealm Studios developed video game is an action-fighting game that supports both single-player mode and multiplayer mode.
Mortal Kombat 11 is the eleventh instalment of the Mortal Kombat franchise following the 2015 Mortal Kombat X.
Mortal Kombat 11 is published by Warner Bros Interactive Entertainment for several gaming platforms although the release date for the game platforms is different; Microsoft Windows, PS4, Xbox One and Nintendo Switch version was released on April 23, 2019, Stadia version was on November 19, 2019, while PS5, Xbox Series X and Series S version were released on November 17, 2020.
With Mortal Kombat 11, you as a player are ready to experience two robust story campaigns, and a 37-character list that includes new additional fighters named Mileena, Rain and Rambo.
Pros
The fighting and action mechanics are thrilling and exciting
Mortal Kombat 11 game tutorial is easy for newcomers to follow
The game has different features and expressive characters
The story mode of the game is enjoyable and well structured
The game support both single-player and multiplayer mode.
Cons
The gameplay patches were too much.
The game campaigns are too short.
The fighting flow among the characters is most times ruined by the unnecessary brutal casualties.
Game Story And Characters
After the defeat of Shinnok, the Dark Raiden decided that to protect the Earthrealm, all its enemies must be destroyed and to make a point, Shinnok was decapitated.
This event instigated Kronika; the timekeeper and Shinnok's mother, to alter history so as to remove Raiden's meddling. Years later there was an attack on NetherRealm by a Special Force team with Sonya Blade in charge of the command, Jacqui Briggs and Cassie Cage with Dark Raiden supporting the attack with diversion.
The strike team succeeded in their assault on NetherRealm even though it cost them Sonya's life. As an opportunity for revenge, Kronika forms a pact with the new leaders of the NetherRealm; Kitana & Lui Kang.
In the meantime, the present emperor of the Outworld, Kotal Kahn, planned to eliminate the loyalist Kollector, Shao Kahn but was deterred by means of a time-tornado which transported Skarlet, Shao Kahn, Baraka, and young Kano, Jade, Kitana, Erron Black, Raiden, Liu Kang, Scorpio, Johnny Cage, Jax, Kabal, Sonya, and Kung Lao from another time zone erasing the existence of the Dark Raiden. This incident led to a war in Kotal's Koliseum up until Skarlet, Black, Shao Kahn, Baraka, and Kano were moved by D'Vorah to her camp, enlisting them into Kronika's camp.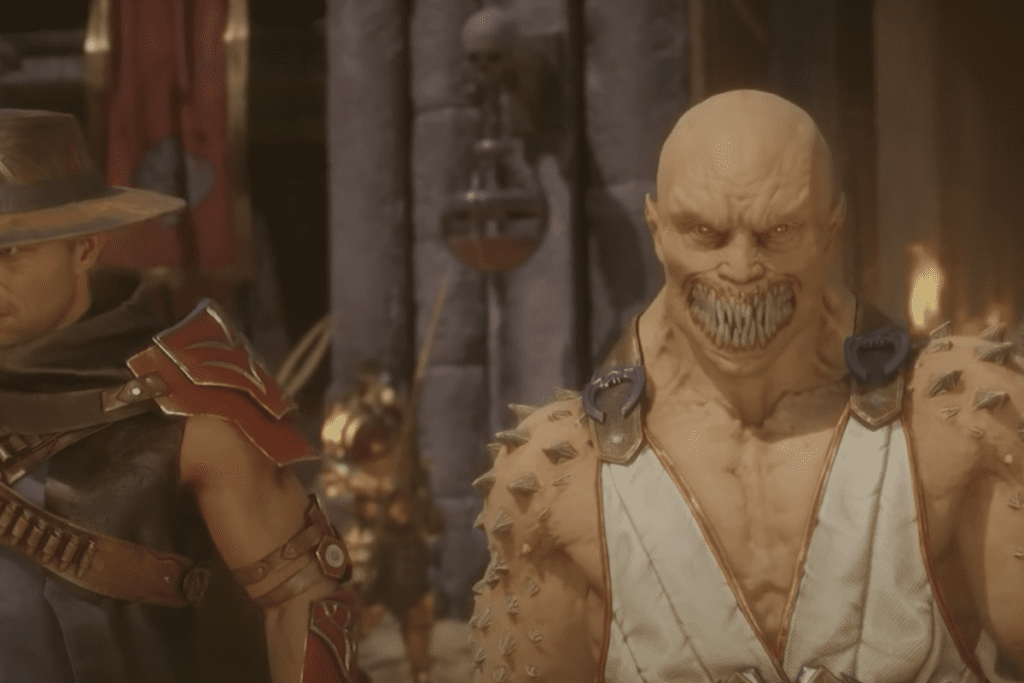 Forging an alliance with Kotal Kahn, the trio; Raiden, Liu Kang and Kung Lao went to the Earthrealm's Special Force Headquarters while Kitana and Jade supported Kotal in defending the Outworld from Kronika's armed forces.
And on the other hand, King Lao and Liu Kang went ahead to explore the Wu Shi Institute, where they met and fought with Geras, Kronika's protégé, but later escaped with his chrono-kinetic power which uses a powerful energy pod holding Earthrealm's life energy.
Earthrealm Special forces later discovered that a cyborg army was being built for Kronika by Sektor with aid from a cyber-technology Frost and Noob Saibot.
The Special Forces HQ sent Hanzo Hasashi and Sub-Zero to destroy the factory and stop their activities. Still, Geras and the other Kano (from another timeline) brought back Sektor and rebuilt the Cyborg army.
The gods' Elders refuse to assist them in defeating Kronika when asked by Raiden but rather receive a clue from Cetrion. Raiden, however, later discovered that all the Elders had been murdered, betrayed by Cetrion to serve Kronika.
Jade and Kotal went to the camp Tarkatan in an attempt to save them from Shao Kahn; however, because of Kortal's hate for the Tarkatans, he and Jade engaged in a fight and were captured by Shao Khan when he came.
Also, the headquarters of the Forces was attacked by Cyber Lin Kuei and Black Dragon, with Sektor murdered, Elder Johnny injured, and young Sonya and Johnny captured.
With the damage done to the Special force base, Sub-Zero's Temple and the Wu Shi Academy's Sky Temple, the only safe place for the Earthrealm's warriors are the Shirai-Ryu's fire Garden.
Cassie took an assault team to rescue her parents, where Sonya encountered and killed a younger Kano, so as to wipe out his present existence.
At the same time, Liu Kang and Kitana together with Kung Lao, fight Baraka to form a treaty with Sheeva and him. Through this support, Kitana was able to defeat Shao Kahn, blinding him in the process and also unite all Outworld factions to overthrow Kotal.
Jacqui and Jax are sent by Raiden to the now uninhabited island of Shang Tsung to collect the Crown of Souls but were sabotaged by the other Jax and Cetrion who have been manipulated by Kronika.
To support their journey to Kronika's fortress, Hasashi had to persuade Kharon, the NetherRealm's Souls ferryman, to join forces with them while he also fought and persuaded his younger identity for an alignment to his camp but was fatally injured by D'Vorah.
Honouring Hasashi's dying wish, Scorpio takes her and proceeds back to Fire Garden, where a furious Raiden assaults him using Shinnok's amulet.
But Liu Kang intrudes, and it is revealed to Raiden they clashed in several timelines, and it was part of Kronika's plan to weaken them as the collective strength of the team is the sole means to destroy her.
Expecting the Heroes discovery, Kronika captures Liu Kang to diminish their strength but with the alliance with Kharon, a combined force of the Earthrealm and the Outworld, Kronika's fortress was attacked with Geras thrown into an endless Sea of Blood and Frost shutdown to disable Cyber Lin Kuei, and also the Elder Jax joining the Heroes' Force.
After Kronika absorbs his past self-soul, he sends Liu Kang to assault Raiden; however, he defeats him before fusing with him and the former Liu Kang becoming "Fire God Liu Kang" thereby acquiring Kronika's plan through the memories of his revenant ego.
The Keep is breached by the heroes but Kronika reverses time back to the beginning nevertheless the Fire God Liu Kang is immune because of its new immortal status. Consequently, he defeated Cetrion and the revenants remaining before confronting Kronika in combat.
Mortal Kombat 11 game story has three different endings depending on the combat outcome; Kronika can either win the fight killing Liu Kang to declare a New Era or it could end with Liu Kang defeating Kronika after losing the first round and he encounters Raiden, who is now a mortal, who becomes his advisor and this is a usual ending that set an Aftermath stage.
And lastly, it could end with Kronika's defeat in the two rounds, and Liu Kang meets a mortal Raiden, and she permits him to choose a person that will follow him to the hourglass. Kitana is picked by Liu Kang, and both plan to undo all Kronika's mistakes and build a new timeline. Although Kitana is still uncertain about the mortals' choices and fears evil might arise again. However, she is assured by Liu Kang with promises that they will always face challenges together.
Graphics
Mortal Kombat 11 game offers a high-quality visual and graphics display on the released platforms. But then, the game looks best on PlayStation 5. The animations for the game are not as great as one would have expected.
The game visuals and environment are well detailed to create a realistic-looking world and superb game.
The recommended requirement to run the video game on your PC with high graphics setting is at least a Radeon RX 570/GeForce GTX 1060 with FX-6300 CPU or a Core i3-2100 3.1GHz and importantly a minimum of 8GB System memory will be needed to get a 60FPS frame rate to play a smooth game.
Looking at the graphics, I can say that it is quite a challenging game because of the high hardware requirements, and I've come across a number of gamers who also criticised the clutters in the gameplay.
And due to this experience, there might be a need to optimise the performance of the game over the high graphic resolution by reducing the quality to offer easier gameplay.
Mortal Kombat 11 video game is one of the best looking and performing games on the 8th generation platform even though it was built on an older engine.
Sound
The video game music sound is an original composed by Wilbert Roget II, and the Audio director at the NetherRealm Studios is Rich Carle.
Mortal Kombat 11 cinematic audio experience is a combination of thoroughly crafted music and audio dialogue that blends flawlessly with the gameplay.
I didn't have an audio issue playing this game on the PlayStation 4, and I believe if anyone should have an issue with the sound, it will be from the hardware used for gaming and not the game itself.
So before playing the game, ensure the hardware you are using is in perfect shape, and the audio setting is on the hardware default settings.
Playability
Mortal Kombat 11, like previous games in the Mortal Kombat series, is a 2.5D action game with the gameplay of Friendships, Violence, Fatalities, Stage Fatalities, and additional features like Fatal blows and Krushing Blows.
The Fatal blows are available to players when the health meter has dropped to below 30%, and it can cause a great deal of damage but can only be used once for every match.
However, the Krushing Blows are special moves triggered as specific conditions like most Brutalities are met.
The game players take control of the Earthrealm protectors to save the world from its enemies and prevent Kronika from reversing time and restarting history again.
Mortal Kombat 11 comes in two Editions on PlayStation 4 and PlayStation 5; Standard and Ultimate edition. The Ultimate edition of Mortal Kombat 11 also has two packs with different story campaigns.
Another key feature of the Mortal Kombat Ultimate Edition is cross-platform play, it supports online play between players using PS5, PS4, Xbox One, Xbox Series X and Xbox Series S.
Buying Guide
Here is a detailed buying guide of the Mortal Kombat 11 video game.
Similar Games
Mortal Kombat 11 video game is an action and fighting game, and therefore has several games that share similarities with it in their genre and gameplay.
And to mention a few of them, we have; Super Smash Bros. Ultimate, Street Fighter V, SoulCalibur V, Dead or Alive 6, Killer Instinct, Mortal Kombat Vs. DC Universe, Tekken 7, Ultimate Marvel Vs. Capcom 3, Rise of Kingdoms, Virtua Fighter 5 Ultimate Showdown, Dragon Ball FighterZ, Eternity: The Last Unicorn, Injustice 2, Zoids Wild: Blast Unleashed, and Mortal Kombat X.
Is The Mortal Kombat 11 Game Worth Buying?
The Mortal Kombat 11 game is a great action game to play, and it is worth the price, as it has two Editions you can decide from depending on your budget.
It is available worldwide on almost all gaming platforms at a reasonable price.
You can check at the gaming store nearest to you today to get your own copy of the game.
Mortal Kombat 11 Game Price
The Mortal Kombat 11 prices vary depending on the consoles; $29 (PS4), $35.99 (Xbox One), and $34 (PS5).
Conclusion
The Mortal Kombat 11 video game is an awesome addition to the Mortal Kombat series of the NetherRealm; even though the game story was too short, the developer still delivered an astounding blockbuster fighting experience.
Even though it focuses more on cosmetic loot and customisation of players, the game was still able to deliver an excellent combat design and mechanics.
Mortal Kombat 11 features some tools that improve your gaming experience; such tools are the capability to see the opponent's win/loss ratio and your estimated success rate, which can aid your decision to accept or decline a match.
The game showcases a diverse roster of fascinating characters and ruthless enemies to produce an entertaining and thrilling encounter.
Though the game is not perfect, with a few glitches here and there, it's still one of my favourite fighting games for this year.
Best Prices Online:
Mortal Kombat 11 Game Character Photos